Announcing TPA2 touch probe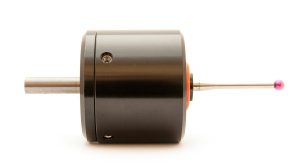 Finally! Yesterday received remaining parts for new touch probe. Headed straight back home to put all pieces together. I rarely publish my fails in manufacturing, but this time I'd like to share that only two minor mistakes were made. One of them was finish type. It ought to be sandblasted before anodizing process unfortunately this step was omitted – purely cosmetic feature, and does not affect performance. Also after inspecting all parts I missed one taped hole, fortunately this feature can be completed by myself.
Changes
There were many reasons why I changed design. For now I can mention few of them:
Main body inherited the same dimensions from TPA1, stylus protrudes few mm further. It is due to added feature to ease stylus maintenance
Actuation force is now:

Axial ~7N (instead of ~10N)
Radial 1-1.5N (instead of 2-2.5N)

Material was changed to anodized Aluminum
Weight is now 115g instead of 250g
There are 4 instead of 3 centering DIN914 centering set screws to ease calibration
Larger stylus travel distances
Completely redesigned internals – easier to assemble and perform maintenance if necessary
One of the most important changes was making customized tungsten carbide parts. These parts were expensive, but using them for electrical contacts gives great advantage over gold plated steel. All electrical contacts made of tungsten carbide and lubricated with special fluid for even better resistance to oxidation
Modular replaceable shank with M5 thread. I will be offering shank of 6mm instead of 8mm diameter. This allows using with smaller CNC machines (with ER11 collets or so). This part is also made of Tungsten Carbide.
Only one plastic part
Gold plated contact springs replaced with specialized double action contact pins
Stylus now has 4mm ruby ball instead of 3mm
Will be packing with 3m instead of 2m high quality cable
Future plans and notes
I will be testing and assembling units this week. Then e-shop link will be opened. Limited quantity will be available for a while.
I have a list of people who contacted me previously. Some of them wanted to be beta testers, some order fully functional unit and some wanted to be distributors. Personal e-mails will be sent to each of you. Excuse me If by mistake you will not received personal notification, let me know by writing me again or commenting under this post.