More pixels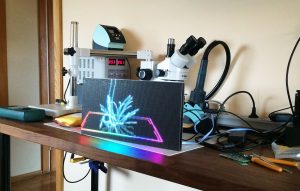 LED's are sure amazing thing to be used in any visualization application. And what can be better then more pixels. Here is what I engineered last night – mount plate for for stacking P3 panels (total resolution 192×96 in 3×3 arrangement). Can be made of any material you have by hand. Laser, water cutter, CNC router or even cut/drill by hand using paper template which can be printer on regular printer. As laser cutters are widely available on hackerspaces or other machine shops this might be the best tool to use.
Drawings
Below I provide drawings if you decide to make it by yourself. Here is general view. Note that screws and cabled are missing, but straight forward to find out which one should be used. Also DXF for laser cutter can be downloaded here.
CNC router
Quickest way for me was to make 2×2 prototype using CNC router. Wanted to test if dimensions were correct before proceeding with larger size. Note liquid on material – this is used to cool router bit and to make chip heavier. Cutting plexiglas is an easy task, but wrong feed or speed can heat tool to much. Instead of cutting material will melt. Part (and probably tool) you are making will be ruined.
Laser cutter
After confirming 2×2 arrangement was correct, I drove to local laser engraving company to make mount plate for 9 panels. Advantages – larger cutting area, faster process, no tool wear. Disadvantage – cutting plexiglas stinks a lot. Good ventilation is mandatory. Everyone who is keen on having laser cutter at home should strongly consider this.
Results
I will be using LED-matrix library is (c) Henner Zeller which is pretty trivial to setup. And below is a command line example to utilize all 9 panels.
sudo ./led-image-viewer -c6 -P3 img.gif
c6 – virtually our panel is split into 32 pixel segments. Total width is 32×6
P3 – utilize 3 parallel ports
img.gif – animated gif image to be displayed
Shop
These panels are already available on the shop