Flashing zoom lens controller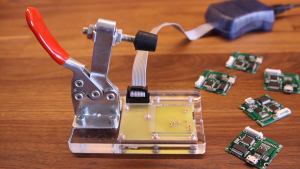 In volume production time is everything. Every second counts. That's why industry has invented test jigs. My test fixture is dead simple but does what it is designed to do. Place an assembled PCB, close toggle clamp and run flash script on a computer. ~20 seconds later board comes out with flashed Arduino bootloader firmware. In more advanced version it would be good practice to test basic functionality (consumed current, electrical continuity/short circuit, etc).
Connection to PCBA is made via short test spring pins (also known as pogo pins). As I have mentioned before test jig is very primitive and pogo pins are connected directly to AVR ISP flasher. Best thing is you can employ a monkey to perform this operation. No skills are needed and operation can be performed in brain off mode.