Raspberry Pi B 3 is compatible with current enclosure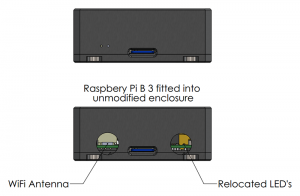 Raspberri Pi foundation recently released new credit card sized computer which is named Raspberry Pi B 3. I am glad to see some neat improvements like faster CPU, 64 bit architecture and embedded WiFi. Also good news are that main mechanical properties are left unmodified. See details below what I found after fitting PCBA into existing enclosure.
Connectors and main PCBA dimensions – fits like a glove.
LED's – relocated to other place. Obstructed by solid aluminum wall.
WiFi antenna – obstructed by solid aluminum. Making a hole will not help much. 1-2 centimeters has to be made of plastic. Though week signal can be detected without any modifications.
There is one unadvertised Raspberry Pi 3 feature it heat's a lot. That's where aluminum will help a lot to dissipate excess heat.